Partnering with Readygrad
Readygrad is one of Australia's leading dedicated graduate employability specialist in Australia. We work with universities and education partners across Australia to develop student employability through industry placement programs, workshops and training, and online employability programs.
We have a relentless commitment to giving graduates an employability edge through learning and industry connections, and deliver this through superior service to our partners and students. Discover why universities and higher education institutes across Australia are choosing to partner with Readygrad.
Graduate Recruitment and Development Specialists
Our background includes managing graduate recruitment and development programs for large corporations including BHP Billiton, Rio Tinto and BP Australia. We give students the employment skills they need to succeed in their chosen career path. Embedded in all our programs is contemporary, best practice graduate recruitment and development expertise, and insight from an industry perspective. Our whole focus is on graduate employability, and to date we have helped hundreds of graduates get started in their careers.
Industry Connections
Readygrad works with over a thousand industry partners across Australia from small, dynamic growth companies to some of the world's most recognisable brand names. Our deep industry connections provide a wealth of opportunities for universities and educators looking to offer students relevant industry based placements within our extensive network, and ensures our employability training programs reflect what industry is demanding from graduates today.
Collaboration and Partnership
Our approach is collaboration and partnership. All of our offerings can be tailored to meet our partners' and their students' needs, and are designed to build on and enhance your existing graduate employability strategy. From consultation and program design, to employability training and industry placement services, program delivery and plug-in solutions, we work with you to give your graduates an unfair advantage in a competitive employment market.
Outstanding Program Outcomes
Our programs are designed with clear learning outcomes mapped to critical employability skills. Learning objectives and outcomes are tracked in our Learning Management System, a unique cloud-based system designed to prompt and capture learning in the workplace. Participants of our programs report improvements in skill development towards their final career objectives, increased understanding of the professional workplace, and a boost in communication skills and confidence.
Instant Scalability
Our programs offer instant scalability to your existing employability strategy, whether it is online programs, additional workshops and seminars, or access to our specialist placement team and network of host companies. We are able to provide additional resources for when you need it most.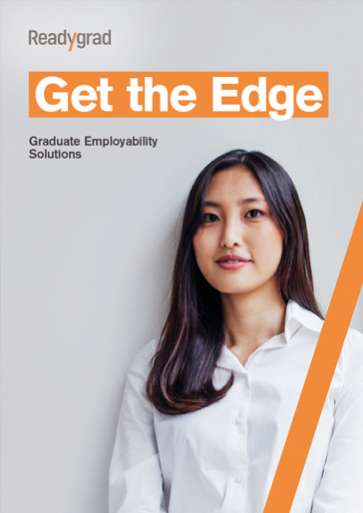 Graduate Employability Solutions Brochure
Learn how Australia's largest dedicated graduate employability specialist has changed hundreds of student lives, and how to partner.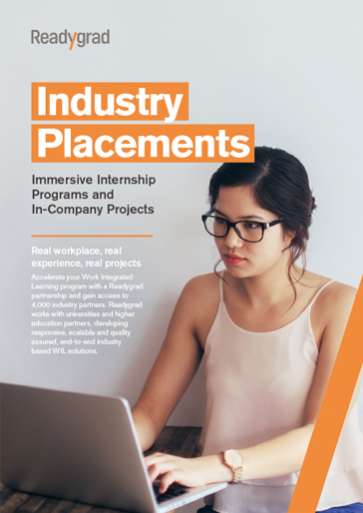 Industry Placements Brochure
Real workplace, real experience, real projects. Learn how you can accelerate your Work Integrated Learning Program with a Readygrad partnership.
We have worked with more than 25 education partners including: