"It's been very satisfying to be able to offer quality Sydney-based Work Integrated Learning opportunities for our international students in partnership with Readygrad. The Readygrad team understands and aligns with our goal of offering relevant and authentic work experiences to our students regardless of the demographic. This is a challenging objective in a very competitive environment, but Readygrad's professionalism and strong connection with the industry allow them to deliver time and time again."
The University of Sydney Business School
Unleashing Collective Genius.
Industry group projects develop essential teamwork, leadership, and communication skills. Students learn to collaborate effectively, delegate tasks responsibly, and adapt to varied roles - vital for the dynamic corporate world. These projects offer real-world experience, showcasing a student's passion, drive, and initiative. They are tangible evidence of a student's ability to contribute meaningfully to an organization. By undertaking such projects, students enhance their employability and gain a competitive edge, demonstrating their potential to impact future careers.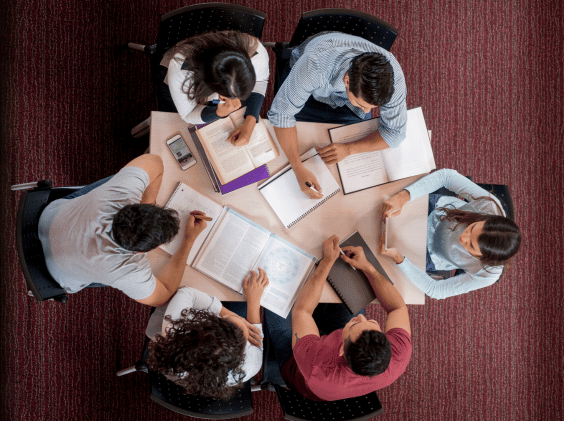 Authentic experiences
These projects provide students with practical experience, serving as tangible proof of their ability to contribute to an organisation.

Team collaboration
Effective collaboration helps students develop crucial communication skills and adapt to diverse roles, essential in today's ever-evolving corporate environment.

Virtual or in-company
Students can participate in group projects virtually or in-company, gaining invaluable experience on their own terms.
Discover the power of group projects to foster collaboration, ignite critical thinking, and propel success.
Cog wheels to depict how the process works
How it works
Brief delivered to the team prior to the first day.

Host company mentor guides the team.

Support and oversight by a Readygrad consultant throughout.

Present findings to company stakeholders at the end of the project.

Overview of student experience and report on exit feedback delivered to the university.
Chess game background strategy competitive advantage
Program advantages
Cross-disciplinary or specialised teams of 4-6 students.

Scalable solution – multiple projects can be run simultaneously.

Can be delivered in-company or remotely.

Insurance is covered by Readygrad.

It can be for credit or extra-curricular.
Our host company partners
We work with thousands of partners, ranging from SMEs to Fortune 500 companies.
Industry Group Project - Case Study
We place a strong emphasis on providing our students with practical knowledge and skills that will enhance their graduate employability. Here is a business challenge some students have worked on with a local IT company to develop a strategy for a new product.
The Host Company
WiseCar is a mobile application that allows users to access their car details and data anywhere. Features include tracking service records, saving parking receipts, insurance records, notifications around registration due dates, driver logbook, fuel consumption tracking and tax return assistance - by tracking car-related expenses throughout the year. The app keeps all information safe, and users can control their data completely. It is valuable when employees are part of a company's grey fleet and can share data with their employer using secure blockchain technology.
The Group Project
The team was tasked with finding at least three different pricing models to attract B2B customers. Each proposed model needed to provide a positive revenue stream within six months. When designing the models, the team needed to account for required human resources, infrastructure, platform, and customer acquisition costs.
The Project Results
The team produced a complete research project, broken down into the following key areas: research on competitors, competitor comparison, pricing models, marketing strategy, and recommendations. Their findings were supported by graphs and key data in the final report. The host company was delighted with their systematic research, which contained new information. They were also pleased with their comprehensive strategy, which would inform the host company's approach. They published the report internally and asked the team to maintain a connection with the company.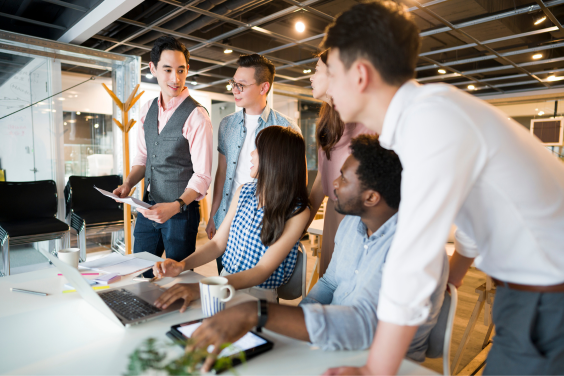 Frequently asked questions
What are the benefits of industry group projects?
Industry group projects provide students with valuable real-world experience, develop essential soft skills, and offer networking opportunities. They play a crucial role in preparing students for their future careers and enhancing their employability.
Real-world Experience

: Industry group projects often involve working on actual problems companies or industries face. This gives students a taste of what they might encounter in their future careers and helps them understand the practical applications of their academic knowledge.

Teamwork and Collaboration

: Working in a group setting encourages students to develop their teamwork and collaboration skills. Employers often look for These essential soft skills, as many jobs require collaborative problem-solving.

Professional Networking

: Collaborating with industry professionals during these projects can provide valuable networking opportunities. It gives students a chance to prove their worth to potential employers and could lead to job offers upon graduation.
How do industry group projects help students gain employability?
Industry group projects allow students to build skills and gain experience that can help them in the job market. Through these projects, students can collaborate with professionals in their field of study, allowing them to learn from real-world experts and apply their knowledge in a practical setting. Working on these projects also gives students an understanding of project management, teamwork, communication and problem-solving that employers can appreciate. Additionally, it demonstrates to potential employers a student's ability to work well within a certain field or industry while building their network of contacts in the industry. Overall, industry group projects provide students an excellent opportunity to gain employability and stand out when applying for positions.
What roles do students assume in industry group projects?
In these projects, students typically take on roles that mirror those in a professional setting. For instance, there might be a project manager, a researcher, an analyst, and a presenter. This helps students understand team roles and how they must collaborate to achieve their goals.
What skills are developed in industry group projects?
Industry group projects help students develop a wide range of skills, including:
Problem-solving Skills

: By tackling real-world problems, students learn how to apply theoretical knowledge to practical situations, developing their problem-solving abilities.

Communication Skills

: These projects often require students to present their findings to industry professionals, honing their written and verbal communication skills.

Project Management Skills

: Managing a project from start to finish teaches students about deadline management, resource allocation, and other aspects of project management.
What real-world experience is gained by undertaking industry group projects?
Students are better prepared for the real world by undertaking an industry group project. For instance, a group of engineering students might work on a project to design a more efficient production process for a manufacturing company. This experience would give them a practical understanding of production engineering, preparing them for similar tasks in their future careers.