Interns got job offers from their host
Of interns developed the skills needed to find work
Employer connections across Australia
Students helped with their employability journey
Amplify your impact. Advance student employability.
Internship placements are the epitome of Work Integrated Learning, immersing students fully in the workplace. That's why we provide tailored solutions for educational institutions, freeing them from the burden of creating and overseeing a Work Integrated Learning program and providing immediate access to our extensive network of industry partners.

Easy access to thousands of industry partners

Leverage or extensive experience placing international students

Student placement mid-point and exit evaluations

Tailored programs to meet your academic requirements
Students receive resume and interview coaching

Student support & monitoring throughout the placement
Internship Program Journey
As your dedicated delivery partner, Readygrad will meticulously oversee and handle every aspect of your students' placements, ensuring a seamless and successful journey from start to finish.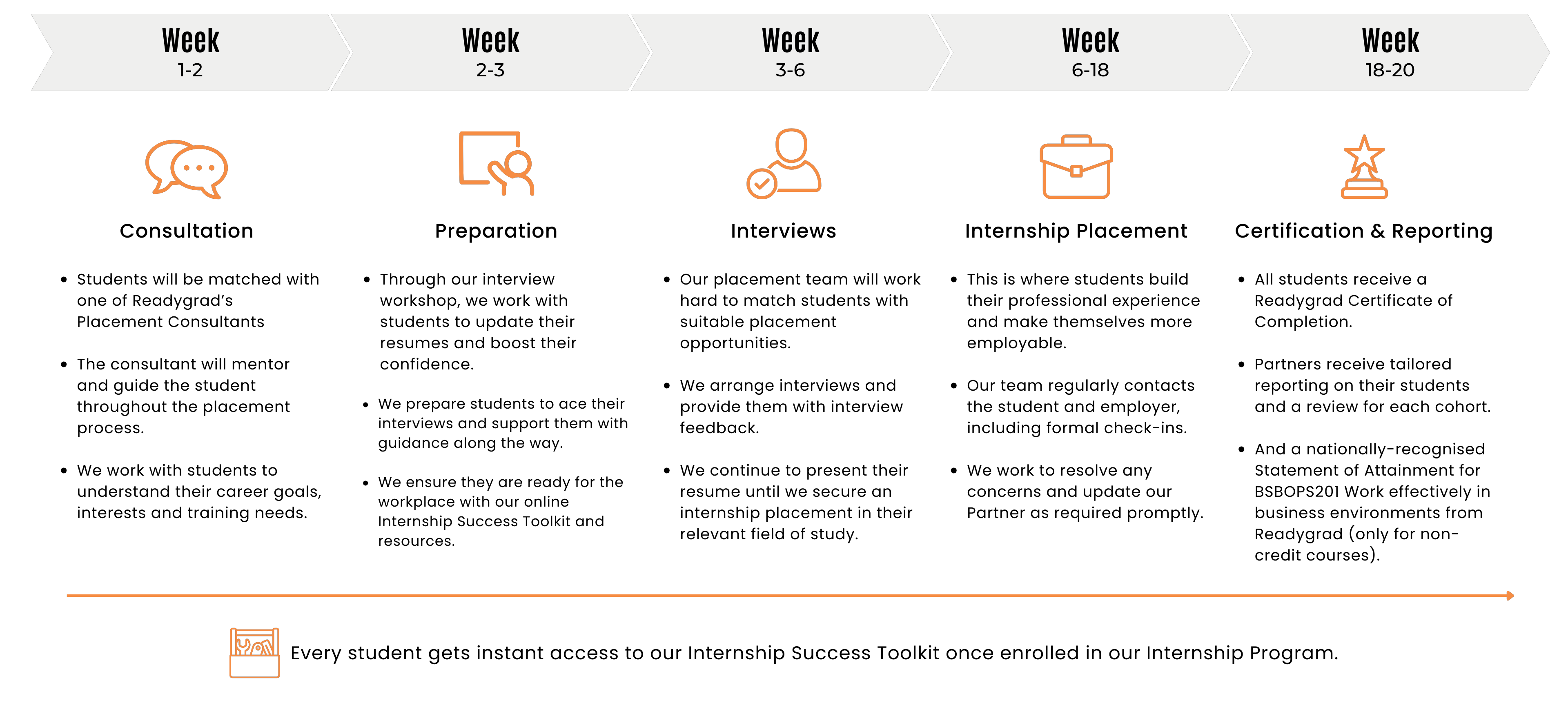 Our host company partners
We work with thousands of partners, ranging from SMEs to Fortune 500 companies.
Internship placement career paths
Trusted by thousands of students and graduates
Professional internship success stories
Our internships have been a game-changer for thousands of students.
With real-world experience, our interns are equipped with invaluable skills that prepare them for the challenges of professional life.
Frequently asked questions
Is Work Integrated Learning different to an internship?
An internship is widely recognized as the premier form of Work-Integrated Learning (WIL) and is undoubtedly the most effective avenue for individuals to gain invaluable hands-on experience that employers actively seek out. However, it's important to note that WIL encompasses a wider spectrum of work experience activities beyond just internships. These encompass industry projects and simulations that provide students with practical exposure to real-world scenarios, allowing them to develop crucial skills and knowledge that directly align with the job market demands. By participating in a diverse range of WIL opportunities, individuals can build a robust skillset and enhance their adaptability and problem-solving abilities, ultimately paving their path to success in their chosen fields.
What is Readygrad's approach to professional internships?
Readygrad believes in helping students bridge the gap between academic theory and real-world practice. Our professional internships are designed to provide students with hands-on experience in their field of study. This allows them to apply the theoretical knowledge gained in the classroom to practical situations, enhancing their skills and preparing them for a successful career.
Do Readygrad's placements take place in the company or virtually?
Readygrad offers both in-company and virtual placements for their programs. Whether your students prefer to gain hands-on experience within a company or work remotely from the comfort of their own homes, Readygrad has the flexibility to cater to your student's needs. Our in-company placements allow students to immerse themselves in a real company environment, interacting with colleagues and learning directly from professionals in the field. On the other hand, our virtual placements provide a unique opportunity to gain valuable experience and skills through digital platforms, allowing students to work with companies from anywhere in Australia. Whichever option you choose, rest assured that Readygrad is committed to providing quality placements that align with your academic goals and student employability needs.
What steps does Readygrad take to help students develop their employability skills?
We facilitate professional internship programs through our Professional Internship Program. This program includes vocational placement within an organisation related to the student's field of study. The aim is to allow students to put into practice what they've learned, gain valuable industry insights and build professional networks.
What steps are involved in the placement process?
The placement process begins with identifying suitable host organisations that align with the student's field of study and career goals. After matching students with appropriate opportunities, we prepare them for placement by providing pre-placement training, including career coaching, resume and interview preparation and support. During the placement, we conduct regular check-ins to ensure the experience benefits both the student and the host organisation.
How do Readygrad's programs accommodate academic requirements?
Our programs are designed to complement and enhance academic learning. By facilitating real-world work experiences, we help students apply their theoretical knowledge in practical settings. We coordinate with educational institutions to ensure our program meets their academic schedules and course requirements.
What support is provided by Readygrad to educational partners?
Readygrad provides extensive support to our educational partners. This includes coordinating the placement process, preparing students for their placements, and offering continuous communication and feedback throughout the program.
Not only do our partners receive tailored reporting on their students and a review for each cohort, but we also go above and beyond to provide comprehensive analysis and insights. Our team of dedicated professionals thoroughly assesses the students' performance, identifying their strengths, areas for improvement, and overall progress. Through detailed reports, our partners gain a deep understanding of how their students are developing and excelling in their placements.
We aim to establish a beneficial partnership where students gain valuable experience and host organisations receive enthusiastic, prepared interns.